What You Should Know About Windows
Click on any of the link below to find out more:
It's what is inside that counts - multi-chambered extrusion
Do not forget to look at what is inside the frame and sash components of your windows. We use multi-chambered frame and sash components which provide increased strength and durability to our windows as well as increased insulation. For example, compare our 2000 series sash extrusion to our competitor's.

You decide on which one you would like to have in your windows.
High quality components mean long-term performance
We use only stainless steel exterior screws, pins, hinges and bars on our windows. With stainless steel, the windows are safeguarded from rust and deterioration from the elements both inside and out. Just compare our components with those of our competitors.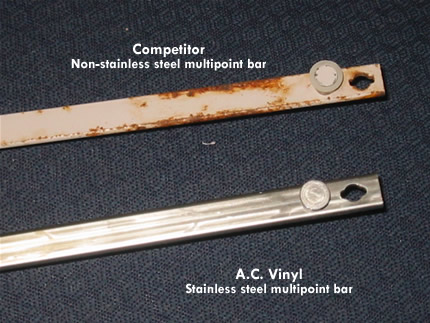 The spacer edge is the coolest point on a high performance window
Did you know that the spacer edge is the coldest point on your high performance window? TGI® Spacer is currently the warmest spacer bar available for the coldest part of the window.
In Northern climates, L.O.F. Low E proves superior for savings according to government's energy rating system. This is a result of the superior ability of L.O.F. Low E to gain heat during the winter months.
Mismatched profiles can shorten the life of your window
Did you know that the melted UiPVC (i.e. vinyl) at the corners of the your frame and sashes hold your window together?
If the sashes and frames are made from a heavy, walled, multi-chambered matching extrusion, the corners will become the strongest part of your windows.
All of A.C. Vinyl windows have all 4 sides of the frame and sash of the windows are heavy walled – approximately 20% – 30% heavier than many of our major competitors. Also all 4 sides of every frame and sash match identically for superior welding durability and strength. Can you ask the same of our competitors?